The eControl System Series X Range Cooker Control System Revolutionises Performance, Provides Full Controllability And Reduces Running Costs To The Lowest That Modern Engineering Can Provide!
The eControl Series X is the next generation heat storage range control system creating a massive stir in our industry. The eControl Series X is the third system produced by UK Innovations Group and now supersedes the fantastically popular Series 1 and Series 2 models. The Series X has been designed to give the ultimate user experience encompassing all of the best features of previous models (Tri Element System, ECO Mode, Supersized hobs, 5 Year Parts Warranty, Independent oven and hob control, Wi-fi compatibility) but with the following additional features;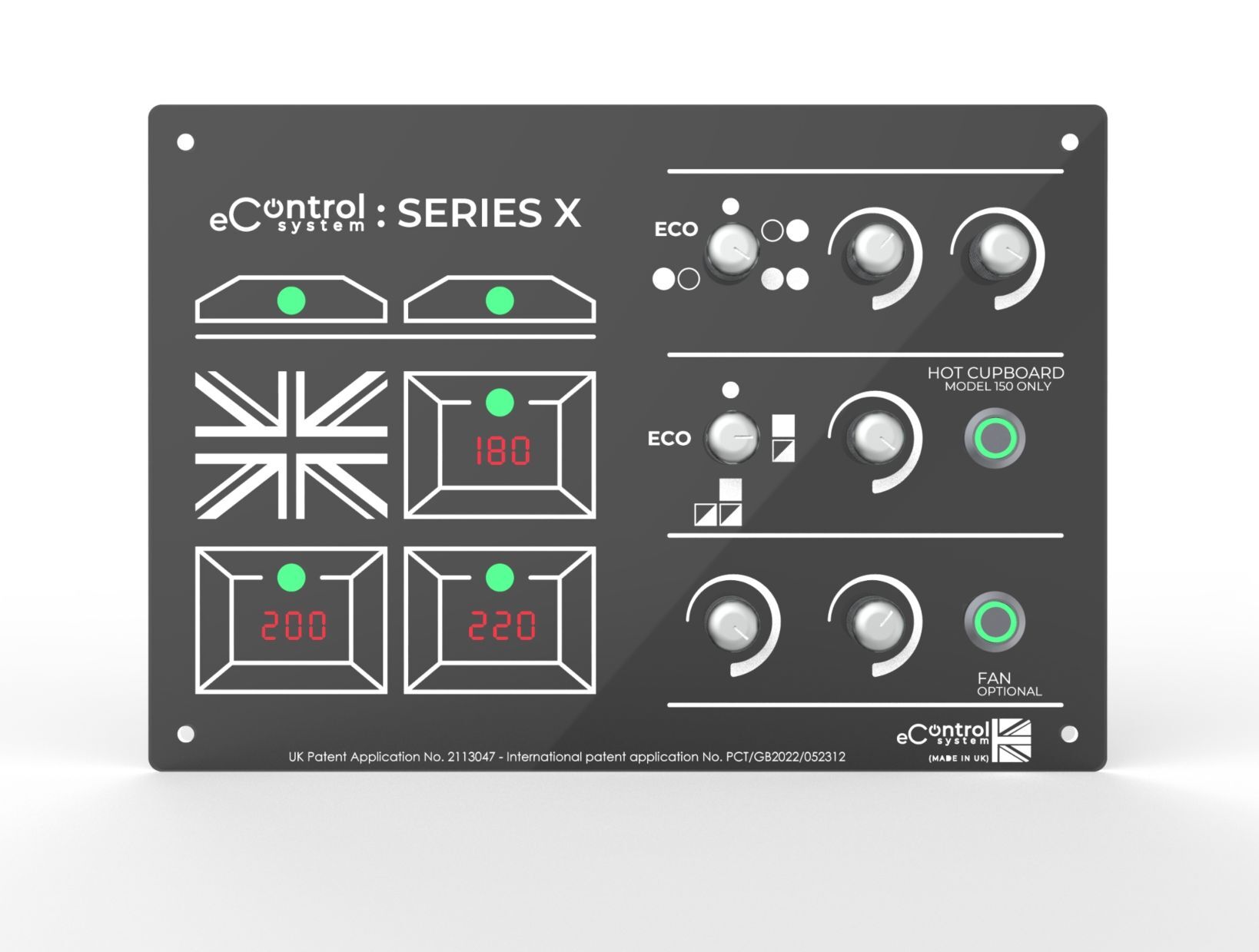 Series X Heat Up Times
Top oven up to 220oC in 20 minutes from ECO mode
Top oven up to 180oC in 44 minutes from stone cold
Top oven up to 220oC in 62 minutes from stone cold
Instaheat hob up to temperature INSTANTLY
Hobs up to full temperature from eco mode in 5 minutes
Hobs up to cooking temperature in 8-10 minutes from stone cold
Hobs up to boiling temperature in 14 minutes
Temperatures
Left and Right hand side – 0 to 370°C
ECO Mode left hand side - 200°C
ECO Mode Righ hand side - 165°C
Right Hand Side Ovens
Top oven – 0 to 265°C
Bottom oven – 0 to 220°C
ECO Mode top oven - 180°C
Model 150 Only
Simmering Oven - 120°C
Warming Oven - 80°C
Advantages
Lower running costs versus most traditional models. Very low running costs when used flexibly
Controllable ambient heat, making this a year-round cooker.
Exceptionally fast heat-up times - Unparalleled heat-up times with hobs up to boiling temperature in 14 minutes and 220c roasting temperatures achieved in as little as 62 minutes from cold. Ovens should be left for an additional 30 minutes before cooking more delicate dishes to achieve full saturation.
Excellent heat output when set to full.
Larger hob surface area.
Removal of the traditional expansion ring allows greater transfer of heat across the hot plate surface.
Hobs can be left on when not in use. For longevity of the elements and lower running costs, we recommend leaving them off until ready to use or at eco mode when greater ambient heat is required.
Ability to bring the Simmering oven to 220c.
Can be combined with a timer to turn on / off as and when required.
No servicing requirement.
5-year manufacturer's parts warranty.
Eco mode - Improves heat-up times versus heating from cold and reduces energy consumption when not in use.
Independent control of hobs/ovens- no temperature loss of ovens when hobs are in use.
Environmentally sound choice, with no combustion fumes.
Disadvantages
It has more electrical components, which means there are more possible repairs.
It is reliant on electricity, so power outages are a concern.
The top runner of the Roasting Oven is occupied by a removable metal baffle plate to dissipate heat.
There are no temperature displays for hotplate temperatures.
A 32amp or 40amp supply is needed (some electric work may be required).
It is more difficult for engineers to replace elements due to the design compared to ElectricKit.
It has a higher initial outlay than other conversions.
There is no internal WiFi option - only a third party ON/OFF timer available.
Hotplates may sit slightly proud of the black enamel top plate due to additional elements and insulation.
Four oven models have an element cassette which occupies/reduces the space inside the warming oven.
It reduces ambient heat to the room compared to traditional models.
Call us on 01748 811 030 for more information or visit our showroom.
Get in touch